Foreign Secretary Liz Truss today hosted Eva-Maria Liimets of Estonia, Edgars Rinkēvičs of Latvia and Gabrielius Landsbergis of Lithuania at Chevening for a meeting of UK and Baltic Foreign Ministers. Discussion focused on strategic threats, shared security concerns and a common desire to forge an even stronger security and economic relationship, where Ministers agreed to enhance cooperation.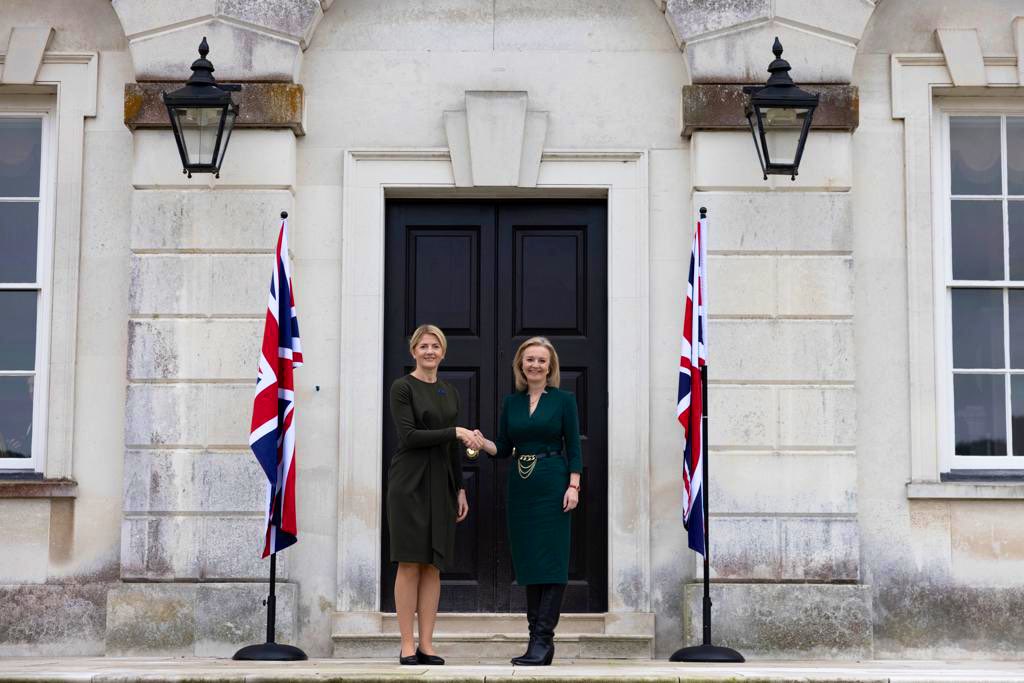 This year marks the centenary of diplomatic relations between the UK and Estonia and Latvia, with Lithuania's centenary falling in 2022. 2021 also marks the 30th year since the end of the Soviet occupation for the Baltic States, and the re-establishment of diplomatic relations with the UK. 30 years on, we are now again working together to make sure we defend and advance freedom and democracy, facing down malign actors. Ministers reaffirmed the importance of close cooperation between the United Kingdom and the Baltic States, and agreed to continue meeting regularly to discuss shared foreign and security policy priorities, and to explore opportunities for economic co-operation, including with other regional partners.
Ministers discussed matters of regional and international affairs, including relations with Russia and China. Ahead of the upcoming NATO Foreign Ministers meeting in Riga, they reaffirmed the role of NATO as the cornerstone of Euro-Atlantic security and agreed to work together to strengthen the Alliance against existing and evolving threats. Ministers discussed security cooperation in the Baltic region, including the UK military presence within NATO's Enhanced Forward Presence and through the Joint Expeditionary Force, as well as through military exercises and air policing. The importance of transatlantic unity was emphasised. Ministers agreed to cooperate closely in multilateral fora, and on holding Russia and China to their international obligations, including on human rights. They emphasised the need to remain principled on our shared values in the face of the systematic challenges posed by China. All agreed to continue building our collective resilience against Russian malign and hostile activity, to protect our national security interests and those of our allies and call on Russia to uphold its international human rights obligations. Ministers recognised the continued need to engage with all partners on common challenges such as climate change.
On Belarus, the UK underlined its solidarity with Lithuania and Latvia in the face of Lukashenko's recent hybrid operation of irregular migrant flows across the EU border in order to pressure Belarus's European neighbours. This harmful, aggressive and exploitative behaviour must stop. All expressed concern at the systemic violation of human rights and fundamental freedoms in Belarus, and agreed to work together, and collectively in multilateral fora, to encourage the regime to release political prisoners and engage in meaningful dialogue with the opposition, leading to free and fair elections. Ministers reiterated their support for the efforts of the Belarusian people as they seek a more democratic future.
Ministers also reiterated their unwavering commitment to Ukraine's independence, sovereignty and territorial integrity within its internationally recognised borders. They reaffirmed their support to Ukraine's Euro-Atlantic integration and the ongoing reform process.
Ministers agreed to work together on media freedom and combating disinformation. They also agreed to work on cyber governance, deterrence, telecoms diversification, and strengthening the resilience of supply chains. They stressed the need to promote the rules based international order in cyberspace, as well as to respond to and to deter malicious cyber activities.
Ministers agreed to forge high ambition on climate ahead of COP26.
Ministers agreed to identify opportunities to build closer economic links between the UK and the Baltic region as a whole, and to increase the levels of trade and investment including through technology partnerships, and in key sectors including cyber and the digital economy, life sciences, research and development, technology, defence, energy and infrastructure. In particular, ministers agreed to explore the possibilities for collaboration on Green tech, carbon capture, smart cities and green hydrogen. The Ministers welcomed their countries participating in the Northern Science Ministerial later in October.
Source: UK Foreign, Commonwealth and Development Office